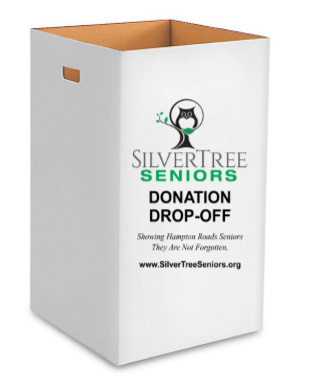 LIST OF ITEMS NEEDED
(All items MUST be new and unwrapped)
· Gift Cards (Walmart, Target, Grocery Stores) *Mail to: SilverTree Seniors PO BOX 16517 Chesapeake, VA 23328
· Slippers and socks with non-skid soles
· Blankets, Throws and Pillows
· Greeting card sets w/stamps
· Men's and women's lightweight PJ's and robes
· Hand-held fans w/batteries
· Linens—towel sets, sheets
· Dish towels, pot holders,
· Toiletries— Body Wash, Lotions, Chapstick, Shaving Cream, Baby Wipes, Hand Sanitizer
· Oral Hygiene Products (soft bristle toothbrushes, denture cleaner/adhesive, mouthwash)
· Magnifying Glasses
· Night lights
· Puzzle Books & Word Finds (large print)
· Adult Coloring Books (with markers, colored pens or pencils)
· Playing cards & games (Dominos, Jumbo Chess/Checkers, UNO, Connect4)
· Notepads, pens and pencils
· Alarm clocks with large numbers
· Small/Soft Stuffed Animals
Please Note: We CANNOT accept medicines, cough drops, food items, candles, or flammable liquids.
SHOP OUR ONLINE REGISTRY!
We've made it even easier to make a difference in the life of a Senior. Shop our
Amazon online registry
and your gift will ship right to us!